AUTHOR BIO
A Cancer born in early July, Tucker is a tri-state river rat, born and raised where Ohio, West Virginia, & Pennsylvania meet.
Determined to bust out of the rolling hills of Appalachia, Tucker devoured every book available, developing an intense addiction to outlaw fiction and the works of Hunter S. Thompson, Allen Ginsburg, William S. Burroughs, and Jim Carroll.
After a brief, failed stint as a gonzo journalist, Tucker invented "Gonzo Smut" and has been happily penning mixed-genre erotica ever since.
Tucker travels extensively and has a resume that looks like an exercise in espionage & identity theft.
Tucker therefore knows a little bit of everything, and like Hermione Granger, is an insufferable know-it-all.
When not staying up all night, texting like a fiend, or of course, writing, Tucker can be found playing any number of table-top role-playing games, though it's a good bet it'll be Dungeons & Dragons, and Tucker will be wielding the FINGER OF GOD as the resident Dungeon Master Extraordinaire…
or "The Ultimate Bad Ass" as Tucker has been nicknamed by readers, fans, friends, and lovers.
It's tough, but Tucker somehow manages to live up to the title.
Tucker likes dark chocolate, foot rubs, fresh fruit (especially pineapple), elderberry wine, sex in all flavors, Diet Mountain Dew, & technology.
Tucker hates planes, cola drinks, migraine headaches, bad drivers, people who don't use lube, poor grammar, & technology.
Tucker is legally married, a member of the Libertarian party, and a practicing Wiccan.
Tucker lives in a polyamorous household with a spouse, several partners of both genders, children (a son who is Tucker's), and a fish tank full of gay fish.
* * *
email - tuckermccallahan@gmail.com
++

And because of my vanity, I took a whole group of online IQ tests. This one is free, and fairly accurate as far as Mensa's standards. Check it out if you're interested.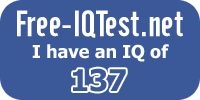 IQ Test